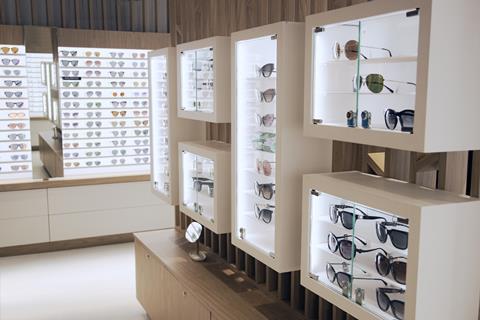 New Look Vision Group, the Canadian-based retail group, reported a high double-digit increase in revenues for the third consecutive quarter, confirming a quick recovery from the impact of the Covid-19 pandemic. After respective growths of 17 percent and 25 percent in Q3 and Q4 in the past financial year, the company posted a 27.3 percent year-on-year increase in its Q1 revenues, reaching 86.6 million Canadian dollars (€59.1m-$71.9m). This topline figure also represents a 21.1 percent jump from Q1 2019, a comparison basis exempt from Covid-19 effect.
The overall growth was mostly fueled by a 24.5 percent year-on-year hike in comparable stores' sales, thanks partly to a lower comparison base with the previous year because of the temporary store closures in March 2020. However, the company also said that, in the context of ongoing Covid-19 restrictions, enhanced store operating procedures and a shift in consumer behavior had a positive impact on same-store revenues. The increase in the number of stores from 393 at the end of Q1 2010 to 406 at the end of Q1 2021 also contributed to the sales' increase.
Adjusted EBITDA for the quarter improved significantly, jumping by 72.2 percent to C$17.1 million (€11.7m-$14.2m) as compared to the same period last year, resulting in a 5.1 percentage point hike in adjusted EBIT margin to 19.7 percent. Adjusted net earnings attributed to shareholders more than tripled from the previous year, reaching C$8.7 million (€5.9m-$7.2m).
New Look Vision, which is pursuing its acquisition program in Canada and the U.S., added six more retail locations in the quarter. The group has progressively increased its retail footprint in North America through a series of external growth operations that brought it from a total of 70 stores in 2012 to more than 400 currently, including about 70 joint ventures.
Most of the multi-store acquisitions took place in Canada, a market where the company has become the leading optical retailer with 405 shops at the end of last year, ahead of FYIdoctors and EssilorLuxottica with 259 and 200 stores respectively.
The company expects more external growth opportunities in the future as the Canadian market is still very fragmented, with independents representing 70 percent of the country's 5,400 optical shops, including many near retirement age. The group currently trades under four banners in Canada with New Look Eyewear, its luxury banner with average transactions of over $1,000, and Greiche & Scaff, IRIS The Visual Group and Vogue Optical. It also operates its own laboratory in Quebec, using Shamir designs and coatings for the manufacture of its lenses.
At the end of 2019, the group made its first acquisition outside its domestic market, taking over the Florida-based Edward Beiner retail chain and its twelve shops. New Look Vision's business in the neighboring U.S. market is expected to accelerate after the recent takeover offer by NL1 AcquireCo, an investment vehicle led by FFL Partners, already a shareholder of the U.S. retail chain Eyemart Express, and by the Caisse de Dépôt et Placement du Québec.
The agreement, which valued the company at around C$800 million (€545m-$665m), has been approved by New Look Vision's shareholders, and was completed on May 26.The company has been delisted from the Toronto stock exchange.
Antoine Amiel, CEO of New Look Vision, told us that the group was still looking at acquisition opportunities in Europe. Amiel, a French manager who joined the company in 2012 after more than ten years in top management positions at Nikon in Asia, Europe and North America, stressed that New Look Vision was looking at acquiring retailers with a strong management team as it has been its policy to rely on existing managers to develop the acquired businesses further.
New Look Vision is also fully engaged in the digitization of its business and launched its own virtual try-on application for its Canadian consumers in the fall last year. The new app is based on the precision technology developed by Topology, a California-based supplier of bespoke frames and digital solutions in which the Canadian group took a minority share in 2019. New Look Vision also has an exclusive agreement with Topology for the distribution of its frames and the usage of the app in Canada.
Based on the latest 3D technology of iPhones and iPads, the new app creates a 3D scan of the wearer's face based on 20,000 optical and anatomical measurement points. New Look Vision said it was currently applying the new technology to its stock and bespoke frames' offering, with excellent results for both single-vision and progressive lenses.
The Canadian retailer also launched last year online appointments with opticians on its New Look website and the possibility to book in-store appointments, two options that bring significantly higher conversion rates and that are being rolled out across the group's banners.
Photo: New Look Vision