The latest news and analysis about relevant trade fairs and conferences
The small Italian trade show DaTE, which in the past few years has been held in the second half of September in Florence, confirmed its intention to hold this year's edition despite the Covid-19 health crisis.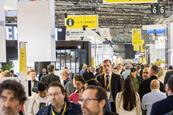 The organizers of Silmo Paris have announced that, in spite of the uncertainties caused by the Covid-19 pandemic, about 700 exhibitors representing 80 percent of the exhibition space have already confirmed their participation in the next edition, scheduled for Oct. 2-5. Last year, the French show hosted 970 exhibitors and ...