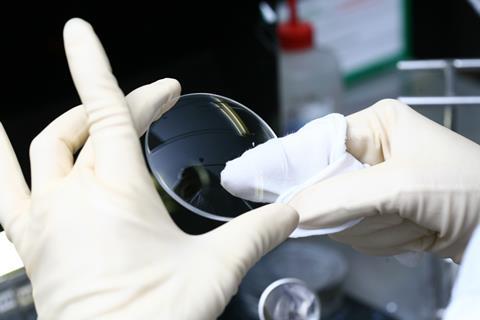 EssilorLuxottica confirms its growth trajectory started in the second half of 2020, with sales for the first quarter surging by 7.3 percent from the year-ago quarter to €4,060 million, or by 14.3 percent in constant currencies. This is even 1.9 percent above the level of the first quarter in 2019, also at constant exchange rates. In its first quarter update, the company did not provide any data on margins and earnings.
EssilorLuxottica Revenues by segment
(Million euros, Quarter ended on March 31)
2021
2020
% Change (constant FX)
Lenses & Optical Instruments
1,631
1,589
9.5
Sunglasses & Readers
166
134
29.6
Equipment
45
38
25.5
Essilor revenues
1,842
1,762
11.4
Wholesale
776
695
18.8
Retail
1,441
1,327
15.9
Luxottica revenues
2,218
2,023
16.9
TOTAL
4,060
3,784
14.3
Source: EssilorLuxottica
The management said it successfully capitalized on the rebound in the U.S. and China, while leveraging its brands, product innovation, distribution, and digitalization globally.
The optical business, which accounts for around 75 percent of revenues, continued to drive growth, with good performances from prescription and optical retail. Sunglasses demand bounced back in North America, led by Sunglass Hut.
The company also focused on digitalizing its business processes and enhancing its e-commerce platforms. Direct e-commerce rose by 61 percent at constant exchange rates.
EssilorLuxottica made several acquisitions during the quarter. On February 3, 2021, it announced that it had entered into an agreement with CooperCompanies to create a 50/50 joint venture for the acquisition of SightGlass Vision, a U.S.-based life sciences company focused on developing innovative spectacle lenses to reduce the progression of myopia in children. On March 25, 2021, it announced that it had entered into an agreement to acquire U.S. lab network Walman, which has 35 facilities across the country, including prescription lens-finishing labs and hubs for optical instruments and other vision care products.
In addition, the group worked on synergies and integration following the merger between Essilor and Luxottica. The management expects synergies in the range of €300 to €350 million in adjusted operating profit by the end of 2021 and of €420 to €600 million by the end of 2023.
Revenue synergies included the roll-out of Ray-Ban Authentic, with Essilor's advanced lens technologies, in the United States and Canada. On cost synergies, the group launched a new project to combine its business-to-business digital platforms, and made progress on the global roll-out of a unified SAP system.
EssilorLuxottica Revenues by region
(Million euros, Quarter ended on March 31)
2021
2020
% Change (constant FX)
North America
2,200
2,070
15.7
Europe
955
906
8.1
Asia, Oceania and Africa
706
587
21.8
Latin America
199
222
7.2
TOTAL
4,060
3,784
14.3
Source: EssilorLuxottica
The Nordics and France among top performers
During the quarter, wholesale revenues were up by 11.7 percent from the first quarter in 2020 to €776 million. The sunglasses category remained soft, while optical consolidated the growth trajectory started in the third quarter of 2020. In terms of geographies, North America remained the main driver and was up by high-single digits at constant exchange rates. However, Europe decelerated, with new restrictions affecting the performance of the sunglasses category in particular. Oakley stood out again as one of the best performers.
Meanwhile, retail gained 8.6 percent to €1,441 million. Amid restrictions, the company kept opened slightly more than 90 percent of its total 6,736 owned locations worldwide throughout the entire quarter. In North America, the division was up, boosted by buoyant consumer demand not only in optical, but also in the revamped sun business. Asia was slightly positive thanks to the Australian optical and sun categories more than offsetting the negative performance in the rest of the region. Europe and Latin America were dragged down by new restrictions.
On a geographic basis, revenues in Europe rose by 5.5 percent, or by 8.1 percent in constant currencies. In Lenses & Optical Instruments, despite a challenging business environment impacted by the various lockdowns across the region, Turkey, France, the Nordics, Russia and Eastern European countries were among the best performers. On the other hand, Southern European countries such as Spain and Portugal, as well as the U.K., Germany and the Benelux were impacted by the pandemic environment and weighed negatively on the division's performance. In terms of products, optical instruments as well as blue-filtering and anti-fatigue lenses performed well.
E-commerce was up strongly, driven by eyeglasses. The Sunglasses & Readers division was dragged by the underperformance of the sunglass activity due to lockdowns in the U.K. and Italy, as well as a lack of tourists. The Wholesale division continued to be affected by restrictions in most European countries, with softness persisting in particular in Spain, France and Italy. Northern Europe performed better. In Retail, Europe showed a deceleration compared with the second half of 2020. New restrictions in key countries, as well as still subdued tourism particularly affected Sunglass Hut. Quarterly performance at Salmoiraghi & Viganò was impacted by new restrictions to mobility and limitations to Italian stores opening over the weekends.
EssilorLuxottica's revenues in North America increased by 6.3 percent in the first quarter, and were up 15.7 percent at constant exchange rates. In Asia, Oceania and Africa, sales increased by 21.8 percent from the first three months of 2020 in constant currencies, and by 20.2 percent in reported terms. Business in Greater China was very strong, thanks to the booming myopia control category driven among other things by the successful ramp-up of the new Stellest lens. Finally, in Latin America, revenues were up by 7.2 percent in constant currencies, but dropped by 10.4 percent in constant currencies, due to deteriorated health and economic conditions in Brazil.
GrandVision acquisition pending arbitral proceedings
Essilux highlighted its solid financial position, with €9.3 billion in cash and short-term investments at the end of March.
The management gave no update on the proposed acquisition of GrandVision, which has stalled since its announcement on July 31, 2019, due to legal issues. In June last year, the European Commission issued a statement of objection to EssilorLuxottica, which the company has challenged. In July, it initiated legal proceedings before a District Court in Rotterdam, the Netherlands, to obtain information from GrandVision, to assess the way it has managed the course of its business during the Covid-19 crisis. But in response, GrandVision has initiated an arbitration process. EssilorLuxottica says its demands for disclosure of information from GrandVision was dismissed by the Dutch District Court. In September, it filed an appeal against the judgment, and the appeal decision has again ruled in favour of GrandVision on April 6, 2021. In a statement a few days later, Essilux said it acknowledged the decision, adding that the closing of the acquisition of GrandVision is still pending the sign off from the competition authority in Turkey, as well as the decisions regarding ongoing arbitral proceedings.
Looking ahead, the company said it is confident in its ability to outperform the eyecare and eyewear industry in 2021. It has the ambition to deliver a performance that is at least comparable to 2019 in both revenue and adjusted operating profit margin, at constant exchange rates.
Photo: EssilorLuxottica