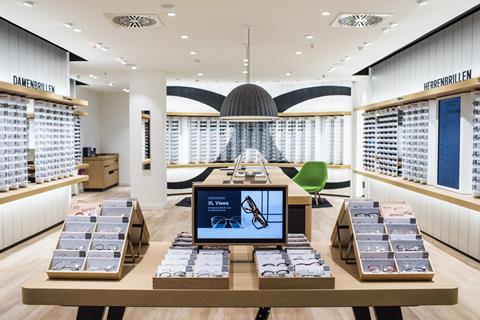 Mister Spex, the German-based omnichannel retailer, announced last week that its 2020 revenues grew by 18 percent last year as compared to 2019, reaching €164 million. The company registered a double-digit hike in sales both in Germany and in its international markets. Dirk Graber, founder and co-CEO, highlighted that Mister Spex largely overperformed both the German and the European eyewear markets which declined by 8 and 13 percent, respectively, based on Euromonitor International figures.
Ebitda doubled to a positive €6 million in 2020 and, after elimination of exceptional expenses, the company reported an adjusted Ebitda of €7 million, a 56 percent increase from the previous year.
In the course of 2020, Mister Spex enhanced its online services with the introduction of video consultations with opticians on their website, and launched the first online eye exams in Germany in April. As previously reported, the company also acquired Tribe, a Berlin-based AI company focusing on the development of customer experience tools for the online purchase of eyewear.
Commenting on its products offering, the retailer said that it was planning to expand the share of high-margin private label eyewear and collaborations with influencers and fashion designers in the coming year.
Initially a pure internet player, Mister Spex progressively switched to an omnichannel strategy, first with the implementation of partnerships with local opticians, building a network of about 400 shops in Germany, and then with the opening of its own stores in the country from 2016. The company added a total of 16 new stores in Germany last year and another four in Q1 2021, reaching a total of 39 stores in its domestic market.
However, Mister Spex' brick-and-mortar business is no longer limited to Germany, as the company opened three international stores last month.
The company first entered Sweden's retail market last month through the opening of two stores in Stockholm, with respective sales area of 120 and 60 square meters of retail space in a central shopping street and in the Mall of Scandinavia. Mister Spex has been present in the country with its online business since it took over two Swedish online eyewear retailers in 2013. It has a local team in the country's capital as well as dedicated customer service operations and warehouses in both Sweden and Norway.
According to the company, a specific feature of the Stockholm market is the popularity of both luxury and independent brands. It also mentioned that demand for blue light filter options increased particularly strongly in the country last year, reaching a share of about 15 percent of the prescription eyewear market.
Mister Spex also opened in April its first store in Austria, a country in which it has been present with its e-commerce site since 2008 and with its optician partner program since 2014. The new 100 square-meter shop is located in the Shopping City Süd mall in Vienna, described as the largest shopping center in Europe.
Mister Spex operates online stores in ten European countries and boasts a total of 5 million customers. In terms of international markets, the company said it would primarily focus on Northern Europe and Central Europe.