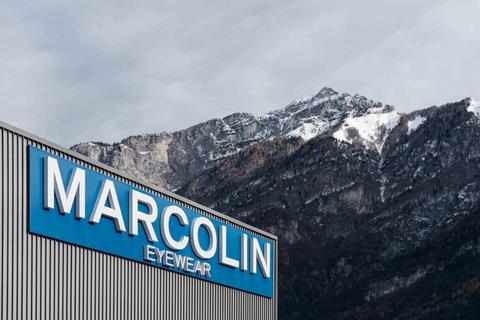 Only a few days after the publication of its annual results, the Marcolin Group relased its quarterly figures for the first quarter of the current fiscal year ending March 31, which showed a strong rebound in revenues from 2020, but falling short of recovering to pre-Covid levels.
Total Q1 sales increased by 16.2 percent year-on-year to €108,663 million, or by 22.8 percent on a constant currency basis. However, the recent sales' rebound only recovered half the drop registered last year because of the pandemic, as Q1 2021 reported revenues remain 16.3 percent lower than in Q1 2019.
As reflected in the table below, Q1 2021 revenues grew at double-digit rates in all regions as compared to 2020, with particularly strong increases in Italy, the Americas and Asia.
Marcolin Group - Q1 Revenues - Thousand euros
2021
2020
Change constant FX
Italy
7,762
5,986
29.7%
Rest of Europe
43,506
38,304
13.6%
Americas
45,465
39,366
28.5%
Asia
4,502
2,408
95.5%
RoW
7,428
7,469
n.a.
Total sales
108,663
93,534
22.8%
Beyond the relatively favorable comparison basis with Q1 2020, when the Covid-19 pandemic and related lockdowns started impacting the Asian markets from January and the other regions from March, the company highlighted the strong performance of its luxury segment in Italy and the rest of Europe, in particular with Tom Ford, Swarowski and the recently launched Max Mara license. In the rest of Europe segment, France, Benelux, Germany, the Nordics and the U.K. were the best performing countries.
In the Americas, the growth was mostly driven by a very good performance in the U.S. optical channel and department stores, while South American sales showed some signs of recovery with a 20 percent year-on-year increase in constant currencies. Revenues in the APAC region almost doubled because of a lower impact of the Covid-19 crisis on these markets this year, but also thanks to structural changes implemented by Marcolin in the region. In the last twelve months, the group changed its distributor in South Korea, reorganized its Chinese subsidiaries and opened one in Australia.
The company reported a slight reduction in its Q1 gross margin to 57.0 percent, which was attributed to a different mix on sales. On the other hand, adjusted EBITDA margin gained 0.8 percentage points from Q1 2020 to 13.2 percent this year. The company said that it was continuing to contain costs and monitor liquidity levels to weather the crisis. The company reported a net financial debt of €339 million at the end of the quarter, a stable figure from the previous quarter.
Marcolin Group - Q1 Key figures - Million euros
2021
2020
Change
Group sales
108,663
93,534
16.2%
Gross Margin
57.0%
58.5%
-1.5pp
Adj. Ebitda Margin
13.2%
12.4%
0.8 pp
Pre-tax Income
1,735
-11,888
-
Net Result
734
-10,083
-