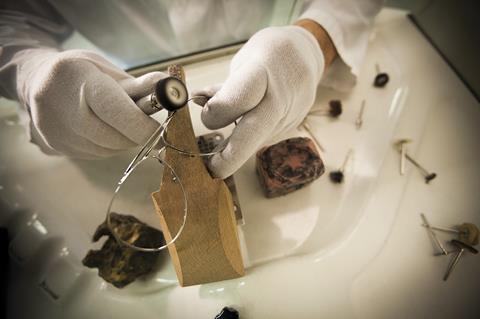 Safilo reported a 13.7 percent year-on-year increase in Q1 revenues to €251.4 million, or 20.0 percent in constant currencies, largely driven by its American business, the newly acquired e-commerce businesses and the good performance of Smith Optics. Significant improvements were also reported in the Italian group's core licenses, but the Europe and Asia-Pacific regions posted negative sales' trends. The company also pointed out that the quarterly sales were 6 percent higher than in Q1 2019 on a comparable currency basis, a more accurate reference point with no impact of the Covid-19.
Safilo - Net Sales by Geographic Area
(Million euros, Quarter ended on March 31)
2021
2020
% Change 2021/2020 Constant FX
2019
% Change 2021/20219 Constant FX
Europe
101.5
107.7
-5.0
124.6
-17.8
North America
119.1
84.4
53.8
88.9
41.8
Asia-Pacific
13.0
14.9
-10.8
17.7
-25.3
Rest of the World
17.8
14.1
40.6
16.1
26.5
NET SALES
251.4
221.1
20.0
247.3
6.0
Source: Safilo
By region, Q1 sales in North America increased by 53.8 percent at constant exchange rates as compared to 2020 and by 41.1 percent as compared to 2019, thanks in particular to the contributions of Privé Revaux and Blenders, with the latter being reported for the first time in Q1 this year. However, beyond the favorable comparison basis in 2021, Safilo said that both brands performed better than expected in the quarter.
Europe remains a sore point for the Italian group which suffered from continued retail restrictions in some countries. The lack of tourists in the region also weighted heavily on sales of sunglasses in large optical chains, boutiques, department stores and travel retail. Polaroid was particularly impacted. The overall drop in the sunglasses market was partly offset by a positive quarterly sales performance in the prescription eyewear segment as compared to both 2020 and 2019. However, the region posted total Q1 revenues of €101.5 million, down at constant exchange rates by 5.8 percent and by 17.8 percent as compared to 2020 and 2019, respectively.
Europe and North America each account for roughly 40 percent of the group's total revenues.
Quarterly revenues in the Asia-Pacific region fell more significantly, decreasing to €13.0 million, which represents a 10.8 percent drop in constant currencies as compared to 2020 and a 25.3 percent versus Q1 2019. Safilo said that its performance in the region suffered from an unfavorable comparison basis, as sales in Q1 2020 had been particularly high in the travel retail business, and from the termination of key licenses at the end of 2020. On the other hand, the group stressed that sales in China and Australia were on the recovery track since the second half of 2020. The region accounted for only 5 percent of Safilo's total revenues in the quarter.
On a constant currency basis, Q1 sales in the rest of the world jumped by 40.6 percent as compared to 2020 and by 26.5 percent as compared to 2019, reaching a total of €17.8 million, driven by a strong recovery in the Middle East countries.
By brand, the company highlighted again the solid performance of Smith Optics, both in the sports distribution circuit and through its direct-to-consumer channels. Together with the online businesses of Privé Revaux and Blenders, the sports brand was an important driver behind the reported 164 percent growth in e-commerce sales, which accounted for 13.0 percent of total quarterly group revenues, against 5.9 percent in Q1 2020.
However, Safilo also reported a strong recovery across its portfolio, mentioning a strong growth for its house brand Carrera, and a significant rebound in its licenses, in particular for Hugo Boss, Tommy Hilfiger, Kate Spade and Jimmy Choo. The company pointed out that the contribution of Privé Revaux, Blenders and the new licensed brands, including Levi's, David Beckham, Missoni, Ports and Isabel Marant, more than compensated the termination of the Dior and other licenses at the end of 2020.
On the same day, the group also announced that it just signed a new 5-year licensing agreement for the design, production and distribution of Dsquared2 eyewear. The first Safilo's optical and sunglass collections for the Italian-based fashion brand, which was previously licensed to Marcolin, will be launched in January next year.
Safilo Highlights
(Million euros, Quarter ended on March 31)
2021
2020
2019
% Change
2021 vs. 2020
% Change
2021 vs 2019
Net Sales
251.4
221.1
247.3
13.7
1.7
Gross profit
126.6
109.4
130.2
15.7
-2.8
Ebitda
13.4
3.4
18.9
293.1
-29.0
Adjusted Ebitda
25.8
5.8
20.0
342.8
29.4
Source: Safilo
The group reported a gross profit margin of 50.4 percent for Q1 2021, slightly higher than the 49.5 percent registered in 2020 but lower than the 52.7 percent ratio of 2019. Adjusted EBITDA margin jumped from 2.6 percent last year to 10.3 percent this year, also an improvement from the 8.1 percent figure in Q1 2019, thanks not only to the increase in revenues but also to the structural savings implemented by the group as part of its strategic turnaround plan. Net debt at the end of March 2021 stood at €223.9 million as compared to €222.1 million three months before.
Safilo said that the sales' trend remained strong in April with important growths in the U.S. and in some emerging countries, as well as in its online business. For the second quarter, the company expects its revenues to normalize and slightly surpass Q2 2019 levels at constant exchange rates.
Photo: Safilo