The sustainability conundrum that the eyewear industry is facing is that durable performance materials are at the very heart of products and that usually means plastics … and this is where, for many, their environmental journey has stalled.
But what is becoming apparent is that consumers care about sustainability, uncompromisingly so – in fact, recent research shows that 75% want brands to offer more sustainable options. So why is the industry lagging so far behind? In comparison to many fashion brands that have reacted quickly to environmental concerns, there hasn't been the same kind of momentum in eyewear – a staggering 90% of consumers say they have found it difficult to find a sustainable option for sunglasses (*Eastman research).
It might be that eyewear is evaluated differently to other fashion sectors – most products have a longer use timeframe than apparel items, they are essential rather than a nice-to-have, and they are relatively small. However it is worthwhile considering that:
According to Earth 911, more than 4 million pairs of reading glasses are thrown away every year in North America - that's about 250 metric tonnes.
Up to 75% of acetate is typically wasted by an eyewear manufacturer, according to global sustainability network Common Objective.
Owing to the increased use of screens, by 2050 half the planet will need vision correction, leading to more waste if the industry doesn't find solutions.
The fact that eyewear is an essential health item, and therefore too important to risk concessions on performance, might be why manufacturers have been reluctant to explore alternatives. But given how much waste is already generated, and by how much that could increase in the following two decades, the eyewear industry actually has a significant role to play in sustainability.
Consumer conscientiousness
Any major change to supply chain requires investment in time and money and therefore has to be part of a wider business strategy. Retailers and brands want to know if they will feel the impact of swapping to sustainable materials in consumer spend and loyalty, but perhaps they should ask what are the consequences of remaining static?
Again, if we turn to statistics, insight into consumer trends show that in pursuit of market position, the green dollar/pound/euro is going to be significant going forward.
Between about a fifth and a third of consumers surveyed in the US, UK, Germany and France say that sustainability is very important to them in their sunglasses purchasing decision, but more significantly, only one in 10 say it's easy to find a sustainable brand (*Eastman research).
In a 2020 survey by Optometry Today, opticians were asked whether sustainability was a consideration in deciding what frames to stock – 100% say it is.
59% of consumers have limited new purchases, up nine percentage points from the previous year (Deloitte, How consumers are embracing sustainability survey, 2022) – which points to consumers wanting products that are long-lasting.
For the eyewear sector, where a consumer is likely to only purchase frames or sunglasses once a year, it's clear that brands need to be on top of sustainability in order to win those sales.
Why materials matter the most
With so many aspects feeding into the concept of ethical consumerism – from recycled to recyclable materials and manufacturing measures such as carbon footprint, chemical pollution, to product miles and pay and conditions for workers – understanding what consumers mean by sustainability is the critical first step for brands wanting to pivot their offer.
Asked, unaided, to define what they think would make sunglasses more sustainable, 74% of consumers say the materials it is made from. Delving further with an aided question, 67% say recycled materials and 60% say sustainable materials (*Eastman research).
Materials define sustainability in the market, therefore this is critical for any brand positioning itself as a sustainability leader.
Half of US and European consumers think brands offering sunglasses made from recycled plastics: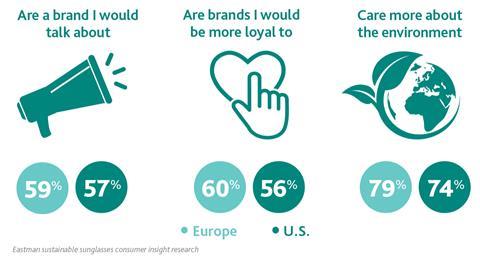 Molecular recycling – a materials revolution
There is a new generation of breakthrough recycled materials that provide the solution the eyewear industry needs – they are in production now and are available globally and at scale. Eastman, a global specialty materials manufacturer, has developed innovative molecular recycling technologies that break down hard to recycle plastics into their original molecules and rebuild them into new high performance plastics.
In recycling, the ability to create virgin-like stock is the ultimate goal because it enables an infinite life for materials, leaving fossil fuels in the ground and cutting greenhouse gas emissions. A truly circular solution.
Rachel Oakley, global segment manager, eyewear, at Eastman, says: "Eastman has developed a way to put an end to plastic waste. Molecular recycling essentially means we can stop plastics ending up in landfill, keeping all used plastic items in the economy and out of the environment."
The Eastman Renew portfolio – no compromise on performance
Molecular recycling technology is revolutionary for the many industries that Eastman works across and uses only plastics that can't be recycled mechanically. In eyewear Eastman has developed three materials that can be substituted for legacy materials without the need for requalification. Branded under the Renew portfolio, they are: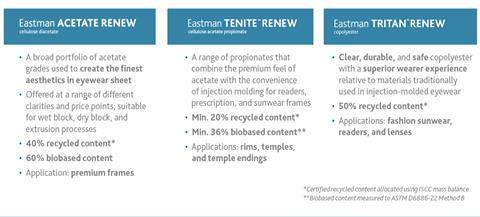 Oakley says: "Eastman's Renew materials are versatile and cover the full range of applications; our Renew range has also been developed to meet all price points, meaning sustainable eyewear is now a choice everyone can afford.
"With Renew there is no compromise in performance or quality. That is what really makes these materials different – an identical but sustainable product that manufacturers will want to use, that can easily be 'swapped' into your manufacturing process and that offers consumers what they want – the quality, durability and aesthetics they are used to. And an added bonus is that Acetate Renew, Tenite Renew and Tritan Renew can be combined in frames and lenses to create a really strong sustainable brand."
Brands on board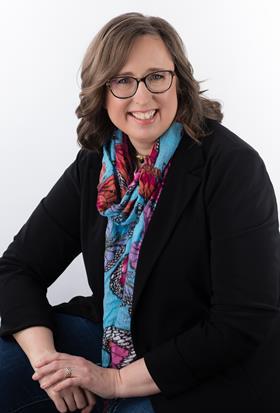 "With the majority of consumers wanting sustainable choices but with limited options currently available, companies that move first have a real advantage," Oakley continues. "For brands, there is a ready market, and with Eastman you get a market-ready solution. The industry knows that consumer demand, and potentially also future regulation, will make sustainability essential to every brand's future, and first-mover advantage can really help achieve brand positioning and customer loyalty.
"We also understand from our research that people will buy glasses made from recycled plastic as long as performance and style are not compromised and the price remains competitive; Eastman has all these elements covered."
Certainly since Eastman launched this trio of materials at scale just two years ago, the number of brands on board has been staggering – Safilo, (Levi's, Under Armour), Kenmark, Andy Wolf, Mazzucchelli, Marchon (Salvatore Ferragamo, Nautica), Etnia, Warby Parker, to name just a few.
In fact, in Spring 2022 Mykita set an industry first by fully pivoting to Eastman's fully sustainable acetate. "The quality of Acetate Renew is truly exciting for us as an independent brand and progressive manufacturer, allowing us to go all in and completely switch our acetate to this innovative sustainable option," says Mykita founder and creative director Moritz Krueger, adding that the premium quality of Acetate Renew made possible a complete pivot to a sustainable option without compromising appearance or performance.
Mykita's figures reveal that by swapping heritage acetate to Renew, the CO2 footprint of each frame is reduced by a third, and that 1,000 frames use the recycled waste plastic equivalent to 304 polyester football shirts.
FGX International, now part of EssilorLuxottica, is planning to implement sustainable eyewear frames to all its mass market eyewear fashion, starting earlier this year with Tritan Renew across its Foster Grant collection.
Crystal clear, durable and BPA-free, Tritan Renew offers sustainability benefits and a superior wearer experience in injection-molded eyewear frames, says FGX's Sal Mauceri, president, sun and readers division, EssilorLuxottica: "Tritan Renew not only offers a superior look and feel compared to polycarbonate frames but also provides the sustainable solution consumers demand and deserve."
Early indications from shoppers about glasses made using the Renew products are positive. Vivienne Westwood's Acetate Renew collection of optical frames and sunglasses for Specsavers scored 4.9 out of 5 for comfort and 4.8 for quality in customer reviews.
3 things Eastman is doing to help solve the global waste crisis:
Investing in three new molecular recycling facilities expanding the capacity of recycling and material production: the first U.S. facility coming on line mid-2023, with an investment of ~$250 million, and will have the capacity to process more than 100k metric tonnes of waste annually; the second facility has been announced in France, with up to $1 billion investment to build the world's largest material-to-material molecular recycling plant expected to be operational by 2025, recycling 160,000 tonnes of waste per year; and the third U.S. facility (location TBA) is expected to start-up in 2026 and process ~150 metric tonnes of waste annually.
Sharing its circular economy vision by joining forces with organizations dedicated to a future where plastic never becomes waste, including: the New Plastics Economy Global Commitment, the U.S. Plastics Pact, The Recycling Partnership, Pact Collective and the Healthcare Plastics Recycling Council. These organizations that unite members behind a shared vision to deliver solutions that address the plastic waste crisis.
Extending a master research agreement with the University of Tennessee, Knoxville to continue their research partnership through 2026. In doing so, Eastman has committed to at least $1m for funded research.
Read more at: A Better Circle | Sustainable Company | Innovative Materials | Eastman
Commitment to the circular economy
Eastman holds FSC and PEFC chain of custody certification for the bio-based content in Acetate Renew and Tenite Renew, and the whole value chain is ISCC certified to ensure the traceability of the molecularly recycled content.
"Brands can hit home with their messaging to consumers'" says Oakley. "There is a decade of development behind these innovations and Eastman has many resources available that explain both the materials and the company's continued commitment to creating a truly circular economy.
"Eastman has been around for more than a century, but we kept a low profile as we play at the beginning of the supply chain working with manufacturers. With the switch to sustainability and the introduction of molecular recycling, we have become more involved downstream. We now cover the entire value chain from producers to eyewear brands, supporting them with research about how to go to market and education about our technologies so they can talk about them knowledgably, particularly the sales teams."
Oakley concludes: "Starting with Acetate Renew, our range of sustainable materials for Eyewear has been out for two years and has now hit its stride; it's fully embedded in the market, and over the next two years we have many more collections coming out made with our full range of Renew materials. Eastman has a vision for full circularity in eyewear, and we are actively working on next generation projects to recover industry waste to loop it back into the production process."
Get all the details of the Eastman consumer insight research.
*2022 Sunglasses Consumer Insights Study, conducted within Eastman's consumer community of 4,000+ US and European consumers
Founded in 1920, Eastman is a global specialty materials company that produces a broad range of products found in items people use every day. With the purpose of enhancing the quality of life in a material way, Eastman works with customers to deliver innovative products and solutions while maintaining a commitment to safety and sustainability. The company's innovation-driven growth model takes advantage of world-class technology platforms, deep customer engagement, and differentiated application development to grow its leading positions in attractive end markets such as transportation, building and construction, and consumables. As a globally inclusive and diverse company, Eastman employs approximately 14,000 people around the world and serves customers in more than 100 countries. The company had 2021 revenues of approximately $10.5bn and is headquartered in Kingsport, Tennessee, USA. For more information, visit www.eastman.com.