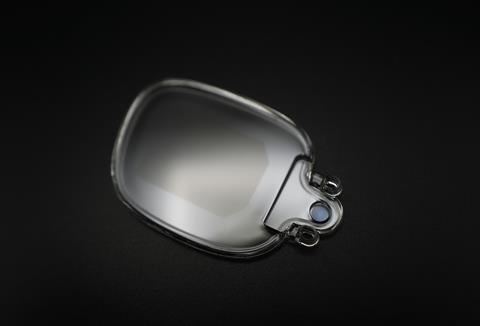 Luxexcel, the Dutch pioneer in 3D-printing solutions for prescription lenses, unveiled last week some details about its partnership with WaveOptics, a designer of waveguides and light engines, during the online SPIE. AR, VR, MR conference. Earlier last month, both companies had already announced their collaboration in the area of Augmented Reality smart glasses.
In spite of a steady flow of innovations in the last few years, smart glasses have not really entered the end consumer market yet, with one of the main obstacles being the bulkiness of the devices until now. Another main factor for the low mass market penetration has been the fact that about 70 percent of the adult population needs vision correction, which means that smart glasses are required to integrate prescription lenses.
Luxexcel 3D-printing process, which consists in the jetting of billions of tiny droplets of its VisionClear material to build the required prescription lens shape, can easily be paused to integrate micro technological devices directly into the lens. This is the solution that the company has been working on with WaveOptics, encapsulating the British company's Katana waveguide, said to be the thinnest and lightest one on the market today, as well as a projector.
Among other key elements, Luxexcel's technology allows the mounting of the projector as part of the lens and the integration of the waveguide in a sealed air gap, which is required for it to function properly and offers protection against external elements such as dust or humidity. According to both partners, their solution also provides safety benefits for the wearers, preventing the waveguide from hitting the eye in case of breakage of the lens.
The partners also said that their common solution results in a 50 percent gain in both thickness and weight of the 3D-printed lenses, a decisive step in the direction of having "smart eyewear that looks like normal eyewear", which Guido Groet, Luxexcel's chief strategy officer, defined as the company's goal.
Prototypes for the new module will be available for smart glasses manufacturers in Q2 2021 and Groet said during his presentation that both companies would be ready for mass production in 2022/2023. The full conference is available here.