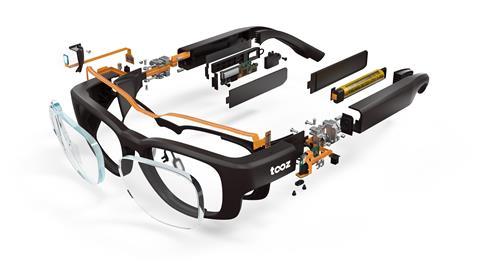 Aiming to mass market smart glasses compatible with prescription lenses at the beginning of next year, tooz technologies, the joint venture founded in 2018 by ZEISS and Deutsche Telekom, is first targeting the community of IT developers in order to collect feedback and finetune the final phase of its product development.
Initially launched in China last year as the country was quicker than the rest of the world to recover from the Covid-19 crisis, the tooz DevKit is now being launched in Germany to the community of developers.
Individual developers can directly purchase the smart glasses on the company's website at the price of €499 each, but these do not come with the prescription lenses' option at this stage. However, the main commercial approach for now is a B to B strategy. Companies and institutions like TomTom, adidas Runtastic or the Else Kröner Frenesius Center for Digital Health in Dresden are already using and testing a developer version of the smart glasses, in connection with their own products and digital services.
For these corporate clients, Kai Ströder, CEO of the company, told us that prescription lenses could be added to the smart glasses on demand. Regarding the company's future distribution strategy, Ströder said that all options were currently on the table, but that the optical retail sector presented some challenges because of its strong and growing consolidation in key markets as well as its high margin levels.
The specificity of tooz' waveguide, the piece that guides the light through to the lens, is its curved shape which enables the integration of individual prescription and other options such as UV or blue light protection and photochromy. Connected via Bluetooth and a dedicated app to the user's mobile device, the glasses display virtual contents, only visible by the wearer, directly on the lenses. The centerpiece of the solution is the injection-molded optical engine with its several high precision free-form surfaces.
The tooz smart glasses also integrate touchpad controls on the temples, options to command the device by head movements, the possibility to use them as an audio headset and adjustable nose pads among other functionalities.
Photo: tooz