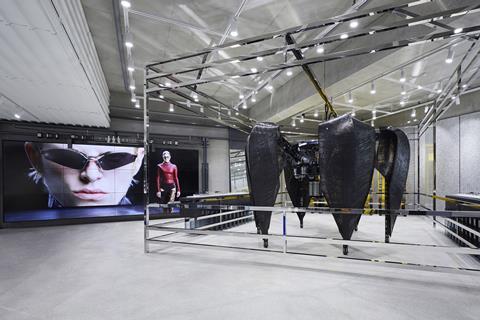 Gentle Monster, the South-Korean brand of luxury eyewear which is famous for the unusual design of its stores that integrate large contemporary artworks and futuristic robots, unveiled at the end of last month its new multi-brand retail format in the Gangnam district of Seoul in the presence of some of the country's most famous movie stars and K-pop idols.
Branded "Haus Dosan", by the name of the park where it is located, the five-story store and exhibition space is set inside a massive grey and cubic-shaped building. For the first time, Gentle Monster shares the retail space with two other brands belonging to the same IICOMBINED group: Nudake, a brand of "fantasy-inspired" cakes that come in unusual shapes and colors, and Tamburin, a range of cosmetics launched in 2017.
The first floor of Haus Dosan is entirely occupied by a large 3D installation designed in collaboration with contemporary artist Frederik Heyman aimed at "conveying new emotions by eliminating the typical functions and features expected from a standard retail store", according to the company. This art installation is accompanied with a dedicated and exclusive soundtrack composed by ARCA, a Venezuelan musician and Grammy Awards nominee. The second and third floors of Haus Dosan are showcasing Gentle Monster's optical and sunglasses collections, surrounded with other artworks, and in particular a six-legged gigantic robot created by the company's Robotic's Labs. The tamburin cosmetics and Nudake cakes are presented in the two remaining floors.
The Haus retail format, which is the first of a series of projects by the Korean brand under the "UNOPENED: FUTURE" theme, will be rolled out in China with the opening of a larger Haus location in Shanghai.
Founded in 2011, Gentle Monster grew quickly to reach estimated annual sales of around $200 million in 2017 with an estimated operating margin of 30 percent according to The Investor, a business publication by The Korea Herald. In that same year, LVMH became a shareholder in the company through one of its investment vehicles, L Catterton Asia, investing around $50 million according to Reuters at the time. No other sales' figures for the company have been made public since then. There were talks about a possiible IPO at the time but the plans have been shelved until now.
Gentle Monster´s business model relies almost entirely on a DTC approach with wholesale revenues representing less than 5 percent of its annual sales, as we reported in 2018 in an interview with Gary Bott, their European manager. At this time, Gentle Monster had 18 DOS stores and 18 concessions in department stores, mostly in Korea.
As of today, the DOS locations and department store concessions' tally grew to 52 units, with 31 in South Korea, 16 in China and South-East Asian countries, 3 in the U.S., 1 in the U.A.E and only one in Europe, located in London's Selfridges. The company also works with more than 200 stockists globally, including 130 in its domestic market. As for Europe, the brand only has retail partners in the U.K. and Greece, with three points of sales each, and in France through an exclusive distribution deal with Marc le Bihan, a 15-store retail chain that addresses the designer eyewear segment.
The Korean brand also runs its own international webstore which was said to represent 10 percent of the company's revenues in 2018. Their collections are also available on 12 third-party e-commerce websites including TMall and Farftech among others.