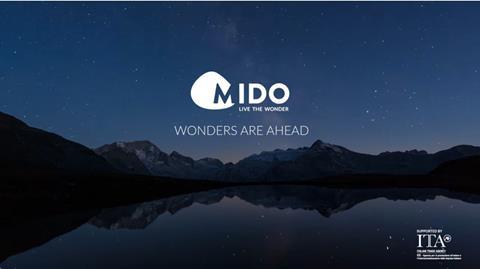 The digital edition of the MIDO international trade show ended last June 7 after three days of online events, discussions and business interactions, but the organizers are leaving that door open as the digital platform remains accessible and most its functionalities active.
Looking forward to the next in-person edition of the event scheduled to take place from Feb 12 to 14, 2022, in Milan, Giovanni Vitaloni, president of MIDO and the Italian industry association ANFAO, told us that the new show would move towards a hybrid format with both offline and online features. The organizers will review in the next weeks the online event's data in details and decide on which digital elements should be maintained in parallel to the 2022 in-person show.
With a total of 5,700 registered users and close to 50,000 business interactions during the three days of the show, figures that have been certified by the ISF CERT institute, the organizers said that the MIDO Digital Edition had been more successful than they had anticipated.
If the attendance was less international than a regular edition of the show, with about 50 percent of international participants as compared to 65 percent normally, the online platform also generated new contacts abroad for MIDO, from companies and eyewear professionals that had never attended the show in Milan. Most users of the online platform were European, followed by Americans and Asians.
Based on preliminary figures, the organizers also told us that about 3,000 out of the 5,700 users have registered as buyers on the platform, with roughly 50-60 percent of them being opticians or optometrists.
A total of 180 exhibiting companies representing more than 400 brands took part in the online event. Most of the main Italian eyewear companies were present with a virtual stand, including EssilorLuxottica, Safilo, Marcolin or De Rigo Vision, while the main international exhibitors in the frames' category were Mondottica, Silhouette and OWP. In the lens segment, Hoya and Zeiss, as well as EssilorLuxottica, were also exhibiting while the list of equipment or services' suppliers included Briot, Luneau, Nidek, Schneider, DAI, Ocuco and Satisloh among others.
Each exhibitor operated a dedicated page on the website with the possibility to post videos, catalogs, company presentation, marketing tools and more. They also had the option to book virtual rooms available for meetings and live product presentations.
Accessible to exhibitors and attendees 24 hours before the event's kick off, the MIDO Digital Edition website offers a number of features accessible from its homepage, with a clear menu and intuitive navigation through the different pages: the main stage with the schedule of events, the exhibitors' virtual stands and the exhibitors' rooms with product presentations, to name a few.
The show offered a total of 30 events and 60 speakers including famous guests from different creative fields like Albert Watson, photographer, Massimo Bottura, chef, and Fabio Novembre, designer. In particular, MIDO produced "Wonders are ahead" and "MIDO Mashup", two video shows starring these guests and a number of eyewear industry leaders who reflected on key topics like fashion, technology, sustainability or the impact of Covid-19 on our sector.
Other events included conferences on customer behavior and eyewear trends by WSGN, and on the emergence of new and sustainable materials by Materially for example. All events' videos are still accessible to registered users on the website.
One of the key offerings of the platform is the ability for registered users, attendees and exhibitors alike, to connect through an integrated communication system that includes options such as direct chats, requests for meetings or video calls. Any registered user can be found in the platform's directory with a search function, which makes connections relatively easy, even between show visitors.
Vitaloni told us that the MIDO teams had reviewed about 15 online platform systems before selecting their technical partner for their digital edition, without disclosing the company's name. In the review process, MIDO progressively switched from the "catalog presentation" model, typical of in-person trade shows where exhibitors tend to collect more orders, to an industry business matchmaking tool, more oriented towards networking opportunities.
Another consequence of such an open network and messaging system between users was that MIDO had to monitor closely the interactions on the platform in order to limit spam-like actions, by flagging people or companies that were using the system abusively for example.
MIDO organizers said that their digital edition, which they described as a transition edition, had primarily been an opportunity to reaffirm their position as a leading brand at the service of the international eyewear sector, in a difficult period. Although they are looking forward to gathering the industry again at the Rho-Fiera fairgrounds in February next year, Vitaloni told us that it would probably take another two or three years for the event to return to its pre-Covid levels, i.e. more than 1,000 exhibitors and more than 50,000 visitors.
Photo: Mido Digital Edition (screen caption)