Biobased, Biodegradable, and More: Achieving a More Sustainable Economy
Sustainability has always been at the core of the two Hong Kong companies Yueheng Optical and Wingram. With the development of the biobased and biodegradable BioAcetate S70, Wingram now offers a sustainable material alternative to the eyewear industry that not only enables a better environmental balance, but better performance as well. Similarly, Yueheng offers a plethora of sustainable options for their customers, including ISCC-certified recycled material, biobased lenses, biodegradable lenses, and BioAcetate S70 lenses. This allows Yueheng's customers to find tailored solutions that best meet their needs.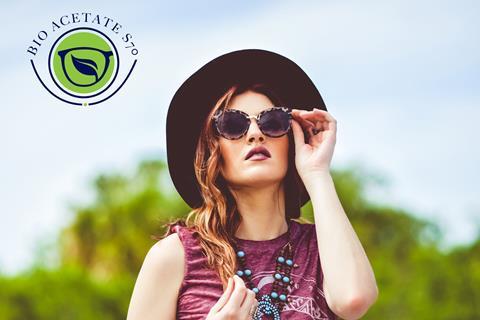 Today, every nation, every industry, and every consumer are challenged to rethink their own actions and their impact on the earth in order to become more sustainable. The earth's resources are finite, but consumption is increasing and with it the waste, because many products have only a short life span. That includes much of plastics. Ninety-nine percent* of the world's plastics are primarily petroleum-based plastics and thus non-renewable raw materials. This is persé unsustainable. It promotes national dependencies on fossil fuels and contributes to the growth of waste. Moreover, these plastics take centuries to decompose. Well-designed end-of-life scenarios are still rare for many consumer products, even more so for circular economy concepts.
Yueheng and Wingram: Cooperating for a more sustainable future
The two companies Yueheng and Wingram aim to provide new alternatives for this. As part of their strategic partnership, together, they want to help companies, consumers and governments around the world to develop sustainably. Wingram is a specialist in biobased and biodegradable plastics, while Yueheng has long been one of the leading lens manufacturers in the eyewear industry and attaches great importance to sustainability. Together, they are tackling the problem holistically by using a circular economy concept. They are introducing sustainable materials like the new material BioAcetate S70, that comes from renewable sources and can be returned to the earth in the form of carbon dioxide, water, and biomass, without leaving behind toxic residues.
BioAcetate S70: Eyewear and lens made from a biobased AND biodegradable material
BioAcetate S70 is an important part of Wingram's commitment to sustainable development. BioAcetate S70 is a predominantly biobased and biodegradable material. It consists of 62 percent biobased material and is biodegradable according to the international standard ISO 14855 (=> 90 percent within 180 days). "BioAcetate S70 thus addresses the two main problems of unsustainable plastic consumption right away: (a) It reduces dependency on non-renewable, petroleum-based raw materials and (b) it provides an end-of-life solution for eyewear products," explains Sam Liu, Wingram's marketing manager. In addition, BioAcetate S70 does not contain harmful plasticizers such as DEP, and its biocompatibility has been tested and declared as non-irritant and non-sensitizing to the skin according to ISO 10993.
However, BioAcetate S70 is not only better for the environment. Thanks to its Hardness Enhanced CA (HECA) properties, the material actually performs better than many traditional comparative products. Because of HECA, BioAcetate S70 is stronger, more durable, and more brittle resistant than "traditional comparisons".
>> For further information visit also bioacetate.com
HECA offers numerous benefits, for example, it helps reduces processing costs. Furthermore, it also allows for greater design flexibility that would not have been possible before, as the HECA properties of BioAcetate S70 allow for thinner frames and structures. Most importantly, it is suitable for common manufacturing processes such as injection molding and the production of acetate sheets.
Sustainable lens solutions for different needs
Partner company Yueheng specializes in lens manufacturing and has also added BioAcetate S70 to its portfolio of sustainable lenses. "The growing interest in sustainable living is driving changes in consumer lifestyles and providing long-term growth opportunities for green technologies," explains Max Cheung, general manager of Yueheng. In order to offer its customers the widest possible range of sustainable products, Yueheng has invested heavily in research and development. The company now offers a whole host of eco-friendly lens solutions that can be selected according to customers' individual needs.
In total, there are four different types of sustainable materials to choose from:
recycled lenses (ISCC Certified lens)
biobased lenses (BIO lenses)
biodegradable lenses (DYO lenses)
biobased and biodegradable lenses (BioAcetate S70 lens)
The recycled lenses are ISCC certified lenses made from recycled PET sourced from a certified material supplier. The biobased BIO lenses use castor oil instead of petroleum. According to ASTM D6866, they consist of 40 percent renewable resources. BIO lenses achieve the same properties as regular PA lenses and are suitable for clear lenses and sun protection. They show good compatibility with acetate frames, TR injection frames, metal frames and other frames.
DYO lenses are biodegradable and carry the Intertek Green Leaf Mark. According to ISO 15985, they achieve a biodegradation rate of 7.51 percent within 45 days under anaerobic conditions, which is a good result for a plastic product and even exceeds the requirements of the certificate.

>> For further information visit also Yueheng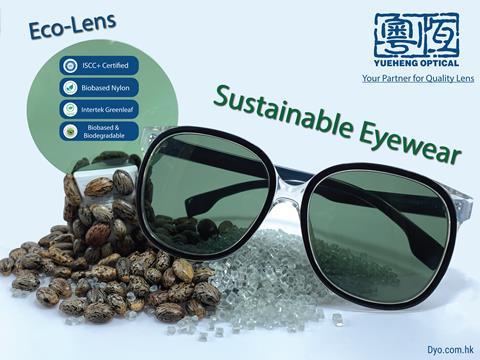 Science-based green technology for a better world
Yueheng and Wingram have defined sustainability as a key core objective. Sam Liu, marketing manager of Wingram, explains, "Wingram has put sustainability at the center. All of our products are focused on environmentally friendly plastics; sustainability is literally our core." Both companies are committed first and foremost to promoting sustainable development, such as finding sustainable alternatives to the high consumption of non-renewable resources. "Our vision is to create a future where the current consumption, wants and needs of our generation do not limit the ability of future generations to experience and enjoy the earth as we have. That's what we want to achieve with our products," Sam continues.
To achieve this, Yueheng and Wingram have invested considerable time and resources over the past few years. Credibility and transparency play an essential role. All material developments are scientifically sound and based on internationally recognized test methods, international standards and certificates, including ISO, ASTM, JJ Biodegradable, Intertek Green Leaf, and the ISCC certification. All testing has been conducted by independent third-party institutes and laboratories and can be viewed and accessed publicly. On the one hand, this is to ensure that the targeted sustainability goals can be achieved in the best possible way; on the other hand, a scientific approach lays the foundation for a trusting collaboration.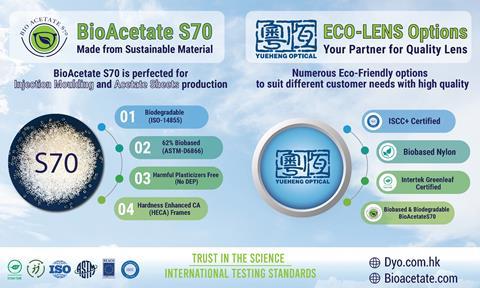 The push to be eco-friendly together
Focusing on the environment and balancing it with social and economic needs is no easy task. Therefore, such a task should be accomplished together when possible. This is also what the collaboration between Yueheng and Wingram stands for. "Our mission is to improve our lives with wisdom and sustainability. As one of the suppliers of quality sun lenses, Yueheng has always been dedicated to developing our lens products through innovation and sustainable projects, to the point of taking concrete measures to reduce carbon emissions and waste generation in various business areas," explains Max Cheung, general manager of Yueheng. Max summing it up simply: "To be, or not to be. Let's be eco-friendly! We are committed to sustainable development to create a better environmental, economic and social world."
* United Nations. "Our planet is drowning in plastic pollution—it's time for change!" United Nations Environment Programme, 2021>