When the pandemic swept through Europe, Brussels-based eyewear sales manager Alexandra Macsimov decided to find online solutions. Brick-and-mortar showrooms were shuttered, which impacted customers in two main ways. Firstly, they were prevented from nipping into their local stores to try on different frames before buying. Secondly, they were unable to get their pupillary distance – the space between their pupils – measured as usual by in-house opticians.
The impact of the pandemic
The pandemic opened Macsimov's eyes to the potential of try-on technology and the need for more accurate VTO systems than the one currently on the market. "All of a sudden, clients couldn't try-on their favorite eyewear brands in real size so I was trying to find them a solution," she says. "Then one day I thought: 'oh wait, I will create the solution.'"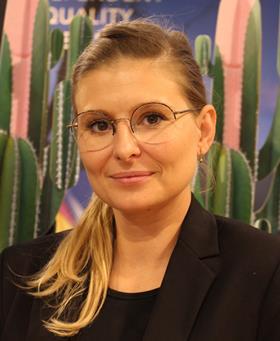 Macsimov teamed up with Dan Tatar, a software engineer, and the duo quickly launched STS, a company specializing in app-based solutions for the eyewear industry. Before long, they had launched EyeDistance, a new customer mobile app for measuring pupillary distance (PD).
However, the start-up soon decided to focus on tailored B2B solutions for eyewear companies, including frames and lenses brands as well as optical retailers, providing them with their expertise in the development of tailored mobile apps. Brands are drawn to STS because they understand that "apps offer high quality user experience through an immersive and integrated selling process. It's a great marketing acquisition tool that complements the physical stores," Macsimov tells Eyewear Intelligence.
"Mobile apps are the future of eyewear because they provide both accurate optical measurements and interactivity allowing people to try on different frames in real size in the comfort of their own homes, and an automation that reduces costs and time investment for eyewear professionals," she continues. "We have big ambitions within this sector: Our aim is to become the reference smart tech company for the optical industry."

"We have big ambitions within this sector: Our aim is to become the reference smart tech company for the optical industry."
Not that Virtual Try On (VTO) technology is anything new. Optical retailers increasingly propose VTO options on their websites, but only a few companies, such as Warby Parker and Polette, already operate mobile services that run on dedicated apps. Such solutions are becoming increasingly popular, Macsimov noted, with Warby Parker's try on app being downloaded an average of 45,000 downloads in September and October. While lightening opticians' workloads in shops, the technology also potentially provides users with a seamless bridge to e-commerce channels.
Mobile apps mean better accuracy and UX
STS believes that app-based VTO solutions could lead eyewear companies to operate multi-brand e-commerce models in the future, similar to that of companies like Zalando in the fashion sector.
The start-up technology presents users with suggested models according to trends, while allowing them to swipe through entire eyewear collections, see how they look from different angles by turning their heads and select different colors and styles. A share function means users can easily share the images with contacts in order to get their feedback. Clients simply click on their selected models to be taken to the purchase module.
An exclusive focus on mobile apps, the accuracy of its augmented reality technologies, the possibility to virtually try the same frame in different sizes and the cost-effectiveness of its 3D mapping process all distinguish STS app-based solutions from others in an increasingly crowded market, Macsimov told us.
Measurement apps work better than web sites because phone technology allows for measurements to be taken automatically, while, with computers and webcams, users usually have to hold a credit card next to allow for accurate measurements. "Our R&D team is mastering TrueDepth technology and able to create more complex optical measurements," Macsimov says. "Thanks to this development, we are now also discussing with lens producers to create partnerships and develop such digital tools for opticians."
A smooth 3D creation process
What differentiates STS business model is the way it creates the 3D images of frames for applications. For most existing VTO solutions, brands are required to send developers physical versions of their frames which are used for renderings made with digital photo technology. STS, on the other hand, employs artists to create high quality 3D glasses directly from 2D images provided by the brands. Each rendering takes about two hours to a day to complete, depending on the frame design, Macsimov says. The company charges brands a small fee for 3D creation, though they can submit their own 3D models at no added cost. "This means there are no shipping expenses and our inventories are minimal," she explains. "Our 3D constructions are affordable, and we can add in extra colors at very low costs compared to other providers."
The development of the eyewear activities was funded through administration consultancy contracts overseen by some of STS's software engineers. The team currently includes five people, with two software engineers, a graphic designer, a project manager and a 3D artist. It has taken hard work to get the project off the ground. "We have worked 24 hours a day, no holidays, no weekends off. We've had to make sacrifices." STS is now ready to take on financial partners to help boost the company's development, Macsimov added.
Technology is the future of the optical industry
App-based VTO, Macsimov believes, is here to stay. "Apps are the way forward. Young people want something interactive and to experiment with different frame or color solutions in the comfort – and privacy – of their homes." Businesses love it too, she says, because the technology can be "so good at getting people through the door and helping achieve customer retention."
While brick-and-mortar retailers are now open, STS's apps continue to grow. Launched in January, the pupillary distance measurement app has already generated 12,000 downloads since then (the U.S., Canada and the U.K. are the biggest customer bases), with a total of 33,000 measurement reports and 54,000 sessions clocked since then.
The company also began developing adn°° optical, an integrated platform allowing users to digitally "try on" frames from a range of different eyewear brands. This application will be targeted to eyewear brands that don't necessarily want to finance their own application. The new apps is billed to go live on the App Store and Google Play in the first quarter of 2022.
Ultimately, it is difficult to predict where the market might take STS. Yet she is certain that big change is on the way. "We are seeing a turning point in the optics world. The owner of the yellow pages once threw the paper copy at Elon Musk's feet and said 'You ever think you're going to replace this?' Musk knew better. Our job is to think like Musk."

COMPANY
STS (Smart Tech Solutions)
Transforming the optical industry with its unique take on Augmented Reality, STS is a Belgium- based app development company that helps eyewear brands to digitize.
FOUNDERS
Alexandra Macsimov, Dan Tatar
FOUNDING
2019
HEADQUARTERS
Brussels
STAFF
5